"A Footnote to Plato" by Tina Lee Forsee. (Resource Publications). 247 pp. $26.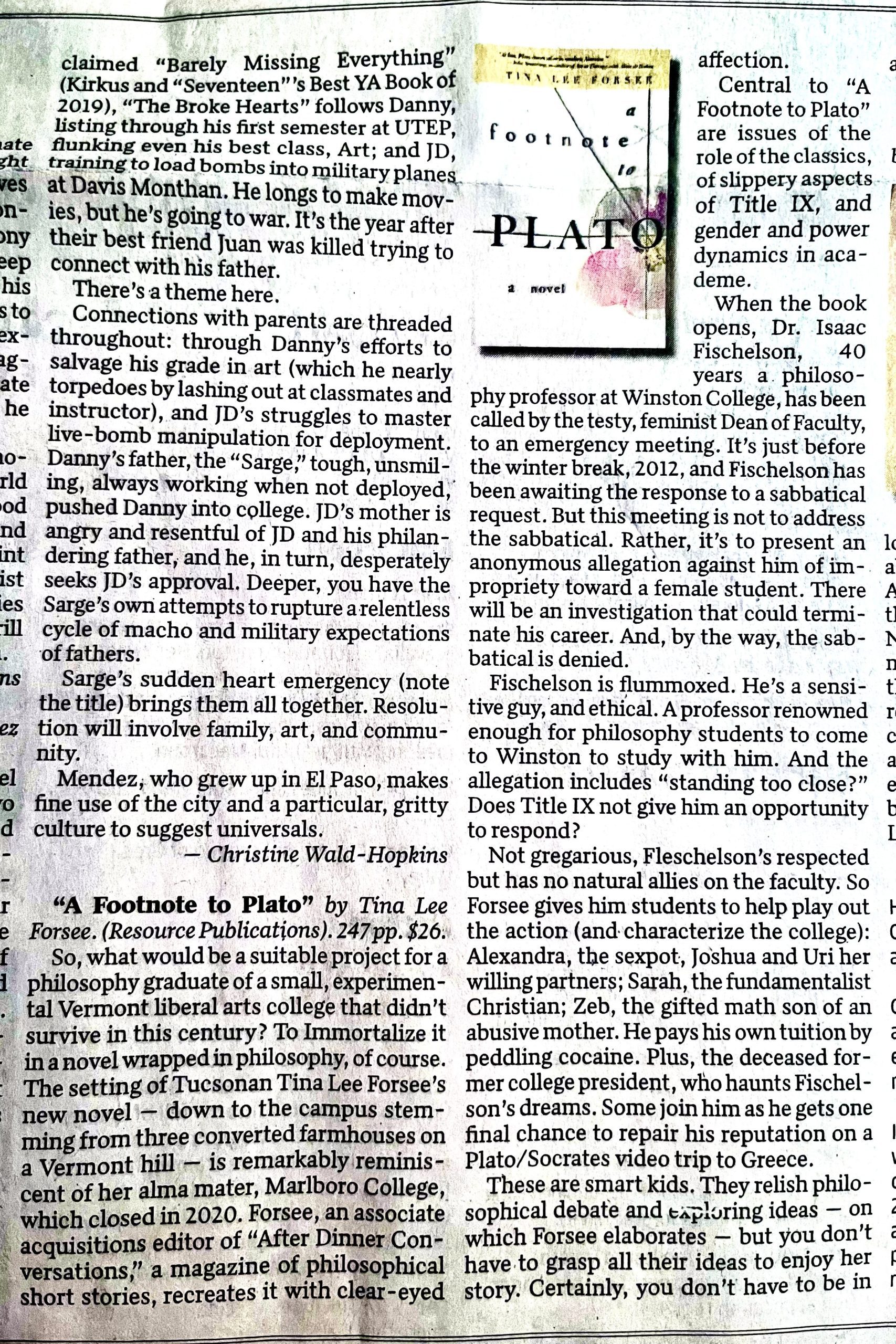 So, what would be a suitable project for a philosophy graduate of a small, experimental Vermont liberal arts college that didn't survive in this century? To Immortalize it in a novel wrapped in philosophy, of course. The setting of Tucsonan Tina Lee Forsee's new novel — down to the campus stemming from three converted farmhouses on a Vermont hill — is remarkably reminiscent of her alma mater, Marlboro College, which closed in 2020. Forsee, an associate acquisitions editor of "After Dinner Conversations," a magazine of philosophical short stories, recreates it with clear-eyed affection.
Central to "A Footnote to Plato" are issues of the role of the classics, of slippery aspects of Title IX, and gender and power dynamics in academe.
Fischelson is flummoxed. He's a sensitive guy, and ethical. A professor renowned enough for philosophy students to come to Winston to study with him. And the allegation includes "standing too close?" Does Title IX not give him an opportunity to respond?
Not gregarious, Fischelson's respected but has no natural allies on the faculty. So Forsee gives him students to help play out the action (and characterize the college): Alexandra, the sexpot, Joshua and Uri her willing partners; Sarah, the fundamentalist Christian; Zeb, the gifted math son of an abusive mother. He pays his own tuition by peddling cocaine. Plus, the deceased former college president, who haunts Fischelson's dreams. Some join him as he gets one final chance to repair his reputation on a Plato/Socrates video trip to Greece.
These are smart kids. They relish philosophical debate and exploring ideas — on which Forsee elaborates — but you don't have to grasp all their ideas to enjoy her story. Certainly, you don't have to be in academe to recognize abuses of power.
— Christine Wald-Hopkins, Oct. 1, 2023